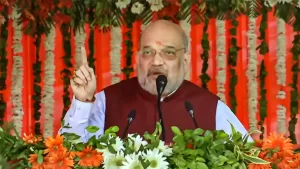 Before leaving for the Baramulla rally, Union Home Minister Amit Shah held a meeting with senior officials including police, army, central intelligence agencies in the morning to know about the security related matters in Kashmir. Lieutenant Governor Manoj Sinha also attended the meeting. Instructing top security officials to intensify anti-militancy operations to make Jammu and Kashmir "terrorism free", the Home Minister said there is no place for terrorism in the new Jammu and Kashmir. There should be such a system so that the people living in Jammu and Kashmir can taste the real democracy and enjoy the benefits of peace.
Home Minister Amit Shah is on a three-day visit to Jammu and Kashmir. Today is the last day of his tour. Top security officials including DGP Dilbag Singh, ADGP Vijay Kumar, GOC 15 Corps, DG BSF, IG BSF, besides a team from the Ministry of Home Affairs were present in this important security review meeting called in Srinagar. He also presented a power point presentation to the Home Minister on the progress made on the counter-terrorism and anti-infiltration front. Home Minister Shah appreciated the role of security agencies in combating terrorism and preventing infiltration after Article 370.
The Home Minister also expressed satisfaction over intelligence based counter-terrorist operations. He said that the security agencies should intensify the operation to wipe out terrorism from the soil of Jammu and Kashmir.
Lieutenant Governor Manoj Sinha informed the Home Minister about the policy adopted by the security forces. He told that we are working on the policy of "don't kill the innocent, don't leave the guilty". The Home Minister emphasized that the common man should feel free and live life without any trouble. The terrorists, especially the OGW and other anti-peace elements should be crushed.
They also discussed how to deal with other challenges, including "online promotions" initiated by handlers on the Internet media. He stressed on adopting a robust mechanism for this so that anti-national elements trying to make youth terrorists through online platforms can be dealt with strictly. Sources said that the Home Minister also called for taking steps to enhance sports infrastructure at the district level to reach out to the youth and keep the youth connected with the administration.
Shah also praised the army for guarding the borders and preventing infiltration. Expressing satisfaction over almost zero infiltration in Jammu and Kashmir, he said that the Government of India is providing all the latest equipment to the Army and BSF for border surveillance, detection of infiltration along the LoC and International Borders.