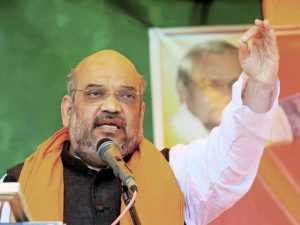 Union Home Minister Amit Shah reached Srinagar late in the evening after addressing a public meeting in Rajouri on Tuesday. After reaching the Raj Bhavan, Srinagar directly from the airport, he met about two dozen social, political, business delegations. During this, he also gave appointment letters of government jobs to the relatives of the four sacrificers on compassionate grounds.
Union Home Minister Amit Shah, who came on a three-day visit to Jammu and Kashmir on Monday evening, will return to Delhi on Wednesday evening. Earlier, he would take stock of the security scenario in Jammu and Kashmir at a meeting of the Integrated Headquarters with senior officers of police, army, paramilitary forces and intelligence agencies in Srinagar on Wednesday morning in the presence of Lieutenant Governor Manoj Sinha. In this, he will brainstorm with the officials on the current situation of counter-terrorist operations, the work being done to eliminate the terrorist network, the supporters of terrorists and the strategy to deal with the threat of drug smuggling and drone attacks.
After the security review meeting, he will leave for Baramulla and after addressing the public meeting there, he will go to the 6th Patshahi Gurdwara on the banks of Jhelum to pay his respects. From there, he will return to Srinagar and will inaugurate various development schemes in Srinagar at a function organized at Raj Bhavan, besides laying the foundation stone of many new schemes.
Union Home Minister Amit Shah, who arrived in Srinagar from Jammu late in the evening, in the presence of Lieutenant Governor Manoj Sinha at the Raj Bhavan, has always stood together: The concerned officials have always stood together. Also provided the appointment letter of government job on the basis. He assured the relatives of the sacrificers that the central and state government is always standing with them. After that, he met about two dozen delegations in the presence of Lieutenant Governor Manoj Sinha and heard their issues and assured them to solve them as soon as possible.