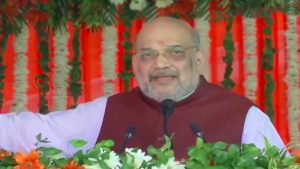 Vijayadashami – the day of victory of religion over unrighteousness. This time, the Union Home Minister will address a public meeting in Baramulla, declaring a new dawn of peace and prosperity in Jammu and Kashmir, which is plagued by terrorist violence and separatism. Not only this rally, this day is also special not only for Baramulla but for the whole of Kashmir. 75 years ago today, on the day of Dussehra in 1947, Pakistani army in the guise of tribals surrounded Baramulla and after that such havoc was wreaked in the city that even humanity should be ashamed.
Terrorism in Kashmir is dying today. Along with this, this rally will also give the message of complete liberation from the jihadi and separatist politics of Kashmir. Apart from some election meetings of central leaders, for the first time in the last 30 years, the Home Minister or any big leader of the country is going to hold a public meeting here.
Baramulla is adjacent to the Line of Control. In 1947, with the help of the Pakistani army, the tribals had reached Baramulla and the elders still tremble by remembering the story of cruelty and terror that was written here. After that the attackers moved towards Srinagar, but Lal Maqbool Wani of Baramulla kept the Pakistani army astray for three days and by then the Indian Army reached Srinagar. When Pakistani soldiers came to know about the reality, they publicly nailed him all over the body and he was riddled with bullets. Even today the nation salutes his sacrifice.
State BJP General Secretary Sunil Sharma, who was arranging the rally, said that not only from Baramulla, Kupwara and Bandipore, many people from Srinagar, Budgam, Anantnag are also coming to listen to the Union Home Minister.