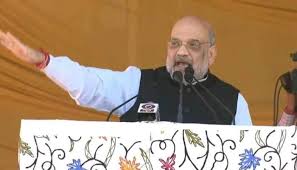 Home Minister Amit Shah, during the Baramulla rally, gave a clear message to the Kashmir-centric parties, who have repeatedly talked of talks with Pakistan, that there will be no talks with Pakistan. Home Minister Shah clarified his opinion in front of thousands of people present in the rally and said that I do not want to talk to Pakistan, I want to talk to Gujjar Bakkarwal, Pahari brothers, people and Hindus of Kashmir.
He clearly said that how can we talk to the one who spread terror in Kashmir. The Modi government will not tolerate terror. We want that separatism and terrorism should end from Jammu and Kashmir and Jammu and Kashmir should be the paradise of India. The youth of Kashmir should contribute to the development by reading and writing, you help in this, this is the intention of our government. What did the first governments give to the youth of the valley. He also asked Mehbooba ji, Farooq Abdullah to answer what they did for the youth of the valley during their tenure. He held the stone and gun in the hands of the youth.
Home Minister said that the Gupkar model did the Pulwama incident and the Modi model built a hospital with two thousand crores. Gupkar has bandhs and strikes while Modi model has IITs, IIMs and AIIMS. Referring to the development of Kashmir, he asked the youth who came out on the path of terrorism to return to the mainstream. Terrorism will not benefit Kashmir, development of Kashmir will benefit the industry.
During this, Home Minister Shah also assured that the Election Commission will conduct elections after the work of publication of voter lists is completed. The delimitation was earlier in such a way that only three families ruled each time. Now your representatives will come to choose you. Mufti & Co and Farooq Abdullah & Sons did nothing. After the rally was over Amit Shah met the people of Baramulla and went down in the crowd. People gave him gifts and saw him nearby. It can be said that it is a historic moment that the Home Minister is meeting him in the midst of the people.
Earlier, Home Minister Amit Shah received a warm welcome on his arrival at Baramulla rally site. Thousands of people had arrived from Baramulla and surrounding areas. Seeing the crowd, Home Minister Amit Shah said that ever since he announced the rally in Baramulla, many politicians were saying that let's see how many people come to your rally. Today the number of people in the rally makes it clear that the people of Kashmir are with the Modi government.