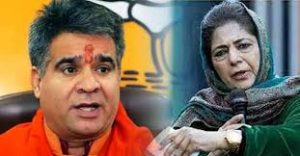 Politics has heated up after PDP President Mehbooba Mufti's statement on Mahatma Gandhi's popular bhajan Raghupati Raghav Raja Ram. Reactions are coming out on this across the country including the state. Jammu and Kashmir BJP President Ravindra Raina has reacted sharply to this. He said that Mehbooba Mufti is pouring poison in the minds of the youth for her political selfishness.
Ravindra Raina said that he should avoid politics that poisons young minds. Mehbooba has lost her land in Kashmir and has been rejected by the people of the Valley. She is planning such a conspiracy to get back her place.
The BJP state president further said that Mahatma Gandhi had united the whole country with this hymn during the freedom struggle. School children sing 'Lab pe aati hai dua banke tamanna meri…'. Nobody has any objection to this. This country belongs to all, people of all religions – Hindus, Muslims, Sikhs, Christians and others. Mehbooba should read Allama Iqbal's 'Religion does not teach, keep enmity with each other'.
What did Mehbooba Mufti say
Significantly, Mehbooba Mufti on Monday shared a viral video of Government High School Nagam (Kulgam) on social media, terming the singing of bhajans as a Hindutva agenda.