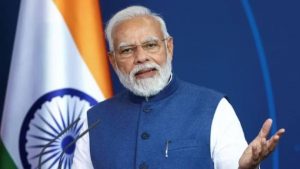 Prime Minister Narendra Modi on Sunday said the speed and scale of infrastructure development matched the aspirations of 140 crore Indians as he flagged off nine Vande Bharat Express trains connecting religious and tourist destinations across 11 states.
Flagging off the Vande Bharat Express trains via video conferencing, Modi also slammed the previous governments for not paying adequate attention for modernisation of railways and assured that the "day is not far when Vande Bharat will connect every part of the country".
Governors, chief ministers, Union ministers and elected representatives were present at the nine railway stations from where the indigenously built semi-high speed trains were flagged off.
The trains stopped at various stations where they were welcomed by enthusiastic school children and hoards of people with elected representatives addressing functions en route.
Union minister Kailash Choudhary and Rajasthan BJP president C P Joshi boarded the Vande Bharat Express train at Udaipur and travelled till Chhittorgarh where a huge crowd of BJP workers raised the slogans of "Vande Mataram" and "Bharat Mata ki Jai' as the train chugged into the station.
In his address, the prime minister said the popularity of Vande Bharat trains was rising constantly and more than 1.11 crore passengers have already travelled in them.
He said 25 Vande Bharat Express trains were already functional and nine more were being added on Sunday.
"This speed and scale of infrastructure development in the country is exactly matching the aspirations of 140 crore Indians," Modi said.
The nine trains will provide faster connectivity across 11 states — Rajasthan, Tamil Nadu, Telangana, Andhra Pradesh, Karnataka, Bihar, West Bengal, Kerala, Odisha, Jharkhand and Gujarat.