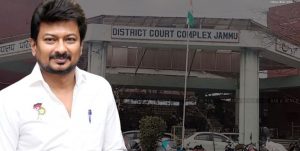 Jammu: A Jammu and Kashmir court recently ordered an enquiry into a complaint by a lawyer seeking registration of First Information Report (FIR) against Tamil Nadu minister Udayanidhi Stalin over his remarks on Sanatana Dharma [Atul Raina V/s UT of J&K].
Special Mobile Magistrate of Passenger Tax and Shops Establishment Act Manish K Manhas tasked the senior superintendent of police, Jammu as enquiry officer for conducting the probe under section 202 Code of Criminal Procedure (CrPC) which empowers the Magistrate to direct investigation to be done by a police officer.
"I have heard the learned Counsel for the complainant and perused the entire record on file. I deem it fit to at first ascertain the truthfulness of the contents pen down in the complaint and hence issuance of process against the accused is hereby postponed. SSP Jammu is hereby appointed as enquiry officer for conducting the enquiry under Section 202 CrPC," the order said.
The complaint was filed by advocate Atul Raina under Section 156(3) of CrPC seeking direction to SHO of Police Station Janipur, Jammu to register the FIR against Udayanidhi Stalin for his statements against Sanatana Dharma at a conference held in Chennai on September 2.
Raina stated in his complaint that his religious and emotional sentiments have been hurt by Stalin's statements.
He also informed the Court that he had filed an application to the concerned police station for registration of FIR but no action was taken by the police prompting him to move the Magistrate.
In related development, the Supreme Court on Friday issued notice to Stalin on a plea seeking registration of a first information report (FIR) against him over his recent remarks on Sanatana Dharma.