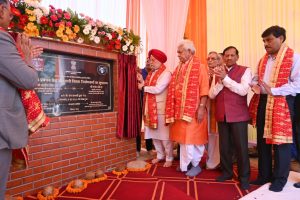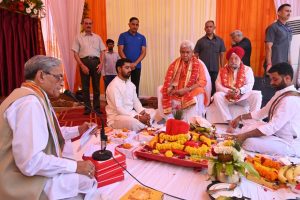 Jammu: Union Minister Hardeep Singh Puri laid the foundation stone of the Disaster Management Center and Amarnath Yatri Niwas at Siddha, Jammu on Tuesday. During this, Lt. Governor Manoj Sinha and other state administrative officers were also present. Union Minister Puri has visited a two -day Jammu.
Earlier on Monday, Union Minister Puri said that the government has given relief to the passengers by restoring lines within 51 hours at the railway accident site with tireless efforts. He further said that the countrymen are in shock and united after the deadly train accident in Odisha. Rahul Gandhi's involvement in anti -national programs and irresponsible rhetoric is disappointing.
All necessary arrangements have been made for the injured. He said that Prime Minister Narendra Modi immediately visited the railway accident site and three Union ministers were present there. He said that when the 26/11 attack took place, the SPG took 10 hours to reach Mumbai from Delhi.
Our Railway Minister has been standing at the accident site for 36 hours. Sadly, leaders like Rahul are roaming political loaves on such accidents. Our country mourns every loss. I feel sad that when we are working without tired, Rahul is making irresponsible statements without considering some facts.
Addressing overseas Indians at an event in the US, Rahul Gandhi has alleged that BJP and RSS are unable to see the future. When the whole country stands together in sorrow and focusing on supporting each other, it is disappointing to see that they are making anti-national programs and wrong statements.
We need an opposition who works responsibly and focuses on issues that affect the whole country. On Rahul's comment on the status of minorities in India, Puri reminded him that I remind him of the blue murder in Assam in which 2000 civilians were killed. He was 13 years old then. When he was 14 years old, 3000 Sikhs were killed in 1984.