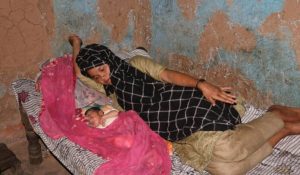 Udhampur, June 05: Baby cries brought some cheers amidst agony to the family at the residence of Deepak alias Deepu who was killed by the terrorists in Anantnag in Kashmir on May 30, Monday last.
Nothing can fill the void of a sudden passing of a dear one. But the joy of welcoming a new life into the world is unparalleled with mixed emotions. Going through a wave of emotions, the wife of Deepak, killed by a terrorist in Kashmir gave birth to a baby boy five days after her husband fell to the bullets of Terrorists.
Deepak, 27, a circus worker, was looking after a joint family, sparked protests and a pall of gloom at his native remote village Thial, Majalta, about 60 km from the district headquarters. Deepak was the sole bread-earner in a joint family comprising his pregnant wife, ailing father besides a blind brother, his brother's wife and two children who are putting up together in a single-storey mud house on a slope in the village. The couple was expecting their first baby in June this year.