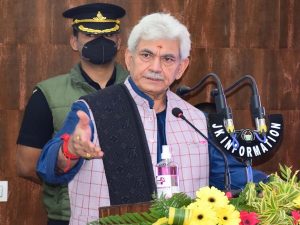 The State Government has started work on a two-pronged strategy to establish an ecosystem for entrepreneurship in Jammu and Kashmir, which became independent from the shackles of Article 370. While local youth are being encouraged to set up enterprises, take up self-employment through various schemes, on the other hand, eminent industrialists and investors of the country and abroad are being attracted to invest in Jammu and Kashmir.
Instead of becoming servants, local youth are being made job providers by providing them with necessary guidance and support. Under this strategy, the state government has provided financial help and loans of Rs 1840 crore to 53299 aspiring young entrepreneurs through various banks. During the period 5.2 lakh jobs have been created under various schemes of self-employment.
At least five lakh rural women have been empowered through self-help groups, eliminating the feeling of insecurity and despair and instilling in them a new sense of self-confidence. The youth have been motivated for self-employment and livelihood in the field of transport. Special financial provision has been made for dentists to open dental clinics. They are given about eight lakh rupees as financial assistance to start their business.
Under the Rise Together scheme, eligible youth groups get financial assistance of Rs 20 lakh to promote community based entrepreneurship in the Himalayan region. Lt Governor Manoj Sinha has claimed in a program recently that in the last three years, 30 thousand government jobs have been provided to the youth with complete transparency. "Under various programmes, 5.2 lakh young boys and girls have been provided self-employment opportunities.
The Jammu and Kashmir State Administration has also given government employment to 29806 people. The Mission Yuva program of the Government of Jammu and Kashmir has proved to be revolutionary in inculcating the entrepreneurial spirit among the local youth. Under this, many employment oriented and entrepreneurial schemes like Mumkin, Tejaswini, Rise Together, Parwaz, Haunsala, Saath, Udemy have been started. Through these, opportunities are being provided to young boys and girls to become entrepreneurs. It has taken important steps towards making urban and rural women financially independent through Hausla, Saath, Udemy and House Stay programmes.
Under the Prime Minister's Employment Generation Programme, Jammu and Kashmir has been successful in setting up 21,640 manufacturing and service units in the last financial year, thereby emerging as the best performing region in the country. Under this programme, 1.73 lakh new employment opportunities were created, which is the highest among all the states and union territories of India.