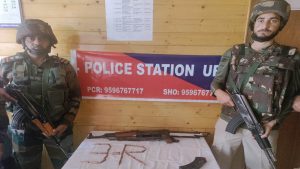 Army and Baramulla Police have recovered arms and ammunition from Hathlanga area along the LoC in Uri. At present, intensive search operation is still going on in the surrounding areas.
According to the information, Baramulla Police and Army received information about the presence of weapons in Hathlanga area of ​​Uri. After this, three Rajputs of Baramulla Police and Army started a search operation in the area. During this, the security forces found weapons hidden in Hathalanga drain. This includes one AK 47 rifle, one AK magazine and 28 rounds of AK 47. Keeping in view the presence of terrorists in the area, the search operation is still going on. A case has been registered in this regard at Uri police station.
Meanwhile, Baramulla SSP Rais Mohammad Butt said that the search operation is still going on in the area. Police and security forces are quite sure that the terrorists have fled towards the forest after hiding their weapons at this place so that no one can suspect them without weapons.