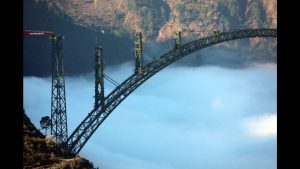 The dream of traveling from Jammu to Srinagar by rail can now be fulfilled soon. Taking another step forward, the Railways on Saturday joined the golden joint of the world's highest railway bridge being built on the Chenab river. By next year, the work of laying the track on it will also be completed. The biggest feature is that safety standards have been taken care of on this bridge. So far Rs 1480 crore has come to build this arch.
The Golden Joint was added under the supervision of senior railway officials at around 11 am on Saturday. Due to this, enthusiasm was also seen among the railway officials present on the spot and the employees associated with the project. This was the biggest obstacle in this project. Now only the work of laying the track is left on this. Its deck work was completed only last year.
Expressing happiness on the occasion, Chief Administrative Officer, Udhampur-Baramulla link of Railways, Surendra Mahi said that now it will not take much time to reach Srinagar by train. All the work will be completed within a year. By next year people can travel by rail to Srinagar.
It will connect Salal A and Duga railway stations. It is part of the 272 km long railway project from Udhampur to Baramulla. 28600 tonnes of steel has been used on the bridge and the arch has been made from 10620 tonnes of steel. The Udhampur-Srinagar-Baramulla Rail Link is included in the country's ambitious project, for which an estimated expenditure of Rs 28 thousand crore is to be spent.
Its design is such that even an earthquake will not cause any damage to it. The area where the bridge is being built falls in the seismic zone 4 but it has been made tolerable to the highest intensity zone 5 earthquake.