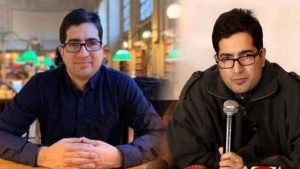 After leaving the politics from the IAS and returning to the bureaucracy, Shah Faesal has been reinstated by the government. After the approval of the Department of Personnel and Training (DoPT), the government has posted him as Deputy Secretary in the Ministry of Tourism. Shah Faesal had applied for withdrawal of his resignation from the government in April last year to leave politics and return to the job, which was accepted and reinstated.
It is pertinent to mention here that Let us tell you that in January 2019, Shah Faesal, who was the IAS topper of Kashmir, submitted his resignation to the government and formed the Jammu Kashmir People's Movement (JKPM) party. He was detained under the Public Safety Act soon after the abrogation of Article 370. After his release, Shah Faesal, a doctor-turned-bureaucrat, quit politics and expressed his desire to rejoin government service. Till then the government had not yet accepted his resignation.
On April 27, Dr Shah Faesal tweeted on his Twitter handle, expressing that his idealism had let him down. "In 8 months of my life (January 2019-August 2019), I was almost exhausted. I lost almost everything that I had built over the years. But I never lost hope. My idealism let me down. '
The eight months he mentioned in his tweet was the period after his resignation, during which he started his party, the Jammu and Kashmir People's Movement. You should know that Dr Shah Faesal is the first UPSC topper of Jammu and Kashmir. Faesal came into limelight for the first time after topping the Civil Services Examination in 2009. However, in January 2019 he announced that he would leave the civil service. In his resignation letter, the officer accused the central government of opposing killings, marginalization of Muslims and sabotage of public institutions in Kashmir.