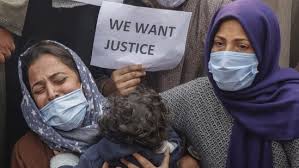 In a plea of exhumation of the body of Amir Latief Magrey who was killed in an encounter in November 2021 after the Supreme Court asked it to consider either on Tuesday or within a week the plea of the deceased father, A Division Bench of Jammu & Kashmir and Ladakh High Court Comprising Chief Justice Pankaj Mithal and Justice Javed Iqbal Wani, today directed UT Administration to to allow respondent no.1 and his family members (maximum 10 persons) to perform Fatiha Khawani (religious rituals/prayers after burial) of deceased at Wadder Payeen Graveyard, on the date and time to be decided in consultation with respondent no.1, subject to taking into account security measures which may be required to be put in place inasmuch as the COVID-19 guidelines.
DB further directed UT to pay compensation of Rs.5.00 Lakhs, awarded by
the Writ Court, to respondent no.1 is maintained. It is made clear that the payment of said compensation  by appellants to respondent no.1 shall not form a precedence for future in view of the fact that the said compensation stands awarded to the writ
petitioner/respondent no.1 in view of the peculiar facts and circumstances of the instant case.
DB while disposing of the petition observed that it needs to be appreciated that appellants admittedly did not provide opportunity to respondent no.1 and his family to associate in the burial and performance of last religious rites of the deceased. Appellants prima facie have acted unfairly inasmuch as unreasonably in this regard notwithstanding the allegation of appellants that person of deceased was a terrorist even if it may be assumed, as such, that the deceased relinquished his right to be buried after performance of last rites performed by his family members in accordance with the faith professed by him, yet the said right of burial and performance of last religious rituals of deceased available to respondent no.1 and his family members could not have been denied. Admittedly, respondent no.1 and his family manifestly has been subjected to emotional and sentimental melancholy. Respondent no.1 and his family have been deprived by appellants of the right to perform last rites and rituals of deceased by the appellants admittedly without there being any policy/guideline, as such cannot be endorsed in law, in that, ours is a Welfare State acknowledged by the whole globe. The appellants herein also could not have overlooked the background of the family of respondent no.1 and his family's role in fighting terrorism. The Writ Court having regard to the aforesaid position has rightly awarded the compensation to the respondent no.1 for such deprivation and the award of said compensation seemingly is appropriate. JNF