Continuing his endeavor to provide better development and civic amenities to the citizens of Jammu, Chander Mohan Gupta, Mayor Jammu Municipal Corporation kick started the construction of lanes & drains in Gali no. 30 at Shiv Nagar area of ward no. 33. Sh. Ved Gupta, Sh. Ved Parkash Sharma, Sh. Krishan Verma, Sh. Karan Sharma, Sh. Balvinder Ji, Sh. Gardhari Lal, Sh. Atul Bakshi & other prominent inhabitants of the locality as well as Sh. Vijay Kumar Gupta Assistant Executive Engineer, Sh. S.K. Bhatt Junior Engineer of Div-II, concerned contractor & other field staff of Health & Engineering Section were also remained present during the drive.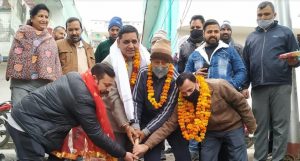 Speaking on this occasion, Mayor told that it was the long pending demands of the public residing in the locality as they were facing great hardships while passing through the lanes which were partially broken & School going children & senior citizens often happen to fall down in the area due to deteriorated condition of the lanes. Mayor said that due to sincere efforts of the locals, the laying of tile works as well renovation of broken ones have been started today within an estimate cost of Rs 3.29 lakh only and assured the locals that all the remaining development works of the ward be taken upon priority basis and interms of the sewerage work of the deep drains as well as Nallahs flowing through upper Shiv Nagar towards Shakti Nagar the directions in this regard have already been issued to the UEED so that dirty water dose not overflows in the residential area in the coming rainy season as it creates havoc every year causing damage of valuable household items of the residents.
He appeal to the general public to come forward & cooperate with Jammu Municipal Corporation & other allied departments in all the development activities being undertaken in the various wards of the Jammu City, do not throw garbage/ waste materials in the open & always handover the same to the designated vehicles of JMC, adopt the habit of Segregation of dry/wet waste at their own level, do not use single used plastics/polythenes, do not encroach public drains/nallahs, plant more and more saplings in and around their surroundings as well as at the available sides of Nallahs for eco friendly atmosphere so that Jammu can be made neat, clean, green & smart city.