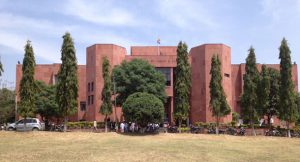 November-20-2023-( JNF):- Special Judge CBI Srinagar SC Katal framed charges against Ishtiyaq Ahmad Parray Branch Head at JKGB Mirgund, Mushtaq Ahmad Wani and Ghulam Mohammad Dar U/Sec. 5(1)(c)/5(2) J&K PC Act. Svt. 2006 r/w Sections 120-B, 409, 420 & 471 RPC.
Special Judge CBI Srinagar SC Katal after hearing both the sides observed that prosecution case is that one Ishtiyaq Ahmad Parray during his tenure (from 01.02.2014 to 04.06.2018) as Branch Head at JKGB Mirgund in pursuance to criminal conspiracy hatched with other unknown public servants and Private persons, have embezzled bank money to the tune of rupees three crores by way of sanctioning of car loans in favour of non-existing borrowers on the basis of fake and fictitious KYC and other mandatory documents resulting wrongful loss of about rupees three crores along with interest caused to the bank and corresponding wrongful gain to himself and other unknown persons, accordingly, the FIR came to be registered.
As per this charge-sheet, the accused No. 1 in connivance with the accused No. 2 have dishonestly and fraudulently sanctioned 16 car loans (as mentioned in the charge sheet) on the basis of false/forged documents thereby violated norms of the bank. The accused persons were knowing the fact that borrower have never applied for loan despite, the accused procure their documents and sanctioned the loan, thereby, caused huge loss to the government/bank exchequer. It is also revealed during the investigation that the borrower had never applied for the loan. The statement of the borrower in this regard have been recorded. The allegation against the accused No. 2 are that he had lured the public on the pretext of providing benefit of government sponsored scheme and collected their Adhar & photographs etc.
It is also the case of prosecution that accused Ishtiyaq Ahmad Parray in connivance with accused Ghulam Mohammad Dar have dishonestly sanctioned car loans of Rupees five lacs (for purchasing I-20 Sportz Hyundai) in favour of Ghulam Mohammad Dar. The accused No. 3 Ghulam Mohammad Dar provided his fake/forged driving licence and the accused No. 1 Ishtiyaq Ahmad Parray on basis of fake driving licence and without verifying the income of the accused No. 3 sanctioned car loan in favour of accused No. 3 which is violation of the norms of bank, thereby caused huge loss to the government/bank exchequer. In this regard I/O has assembled the sufficient material evidence.
Court after perused the record, observed that there is sufficient material on record at this stage to proceed against accused persons. Hence, Prima facie case is made out for framing of the charge U/Sec. 5(1)(c)/5(2) J&K PC Act. Svt. 2006 r/w Sections 120-B, 409, 420 & 471 RPC against the above mentioned accused persons, the accused persons on charge-sheeted accordingly. JNF