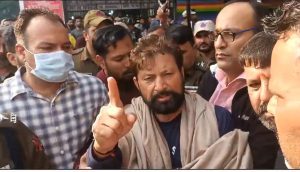 Jammu November-18-2023:- Special Judge CBI Bala Joyti today sent former Minister and Dogra Swabhiman Sangathan Party (DSSP) supremo Lal Singh to Judicial Custody in money laundering case.
Chaudhary Lal Singh (aged 64 years) s/o Saran Singh, R/o H.No. 01, Ward No. 02, Kathua (UT of J&K) has been produced before court on 18.11.2023 at 10.00 AM on virtual mode, through "video conferencing" under proper custody by IO Shri Pardeep, Assistant Director, Directorate of Enforcement, Jammu. IO has prayed for judicial remand of accused for a period of 14 days through virtual mode in view of Notification dated 15.11.2021 No. 1246 of 2021/RG due to law & order apprehension.
Special Judge CBI Bala Joyti after hearing special PP Ashwani Khajuria for the ED and perusal of the application and CD File transpires that accused was arrested on 07.11.2023 in case FIR No. RC0042020A0005 dated 12.09.2020 and ECIR bearing No. ECIR/JMSZO/04/2022 dated 31.03.2022 for offence under section 5(1 )(d) read with section 5(2) of J&K PC Act, Samvat 2006 (Pari Materia to sections 13(1)(d) read with 13(2) of the Prevention of Corruption Act, 1988) and section 120-B of the Ranbir Penal Code 1989 (Pari Materia to section 120-B of Indian Penal Code, 1860). As per the current Medical Certificate, accused is reported to be physically fit and stable.
Court observed that since investigation of the case is ongoing and accused is involved in a serious and non-bailable offence, besides as per IO, accused herein tried to derail the investigation by not co-operating and moreover statements of other material witnesses are yet to be recorded, as such, prayer of the IO is granted and accused person is remanded to judicial custody for a period of 14 days w.e.f. 18.11.2023 to 01.12.2023. It is directed that the accused person shall be lodged at District Jail, Amphalla, Jammu. Accused person shall be subjected to regular medical checkup under rules. He has been apprised of his right to engage an Advocate to defend him. Accused shall be produced in the Court by the IO after expiry of the period of judicial remand i.e. on 01.12.2023.
Court further directed IO to expedite the investigation and also directed . Superintendent, District Jail, Amphalla, Jammu to provide basic,amenities under rules to accused person as per "Jail Manual" and to produce accused person through "video conferencing" on expiry of period of judicial remand. JNF