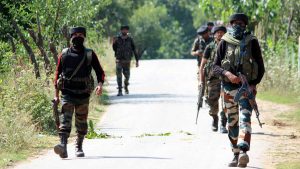 Kulgam: Two more Lashkar-e-Toiba militants have been killed, taking toll to 5 in a gunfight at Samno area of South Kashmir's Kulgam district on Friday, an official said.
A senior official said that two more militant bodies have been found near the encounter site, taking the death toll to five. However, their identity is yet to be ascertained as searches continue. Yesterday, a joint team of Police and the army launched a cordon and search operation in the area.
As the joint team of forces zeroed towards the suspected spot, the hiding militants fired on the joint team, which retaliated, triggering a gunfight.
The operation was suspended due to darkness in the area for precautionary measures and resumed this morning with the first light.