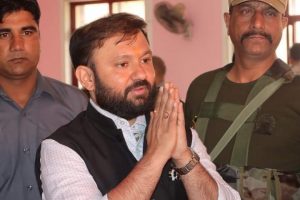 October-20-2023-:- In far reaching order in coming Assembly elections of Chhattisgarh, Madhya Pradesh, Rajasthan and Telangana, Justice Rajesh Sekri of Jammu & Kashmir and Ladakh High Court after hearing Adv Ankur Sharma, directed Election Commissioners and Ors to accept the nomination paper and Form B of the petitioner party in the name of "Ekam Sanatan Bharat Dal". They are also directed to allot common symbol enabling petitioner party to contest the forthcoming Elections of Legislative Assemblies of four states.
This order has been passed in a petition filed by IKKJUT Jammu who claims to be a registered political party. The case set up by the petitioner is that pursuant to unanimous decision and approval of the General House to change its name from "IkkJutt Jammu" to "Ekam Sanatan BharatDal", resolution of the General House was communicated to respondent no. 1-Election Commission of India, vide communication dated 10.04.2023, in terms of Section 29 of the Representation of the People's Act, (for short "the Act"). Petitioner fulfilled all the formalities and requirements vide its detailed communication dated 10.07.2023 addressed to respondent no. 1. Subsequently, petitioner was asked by respondent no. 1 to publish a public notice with respect to change of its name in the newspapers. Pursuant thereto, petitioner published the public notice, detail whereof along with newspaper cuttings was furnished to the office of respondent no. 1 vide letter dated 24.08.2023.
It is further case of the petitioner that it represented the office of respondent no. 1 for allotment of Common Symbol in terms of Para 10 B of the Elections Symbols (Reservation and Allotment) Order 1968, vide its application dated 14.08.2023 by stating that Assembly Elections, 2023 are scheduled to take place in the States of Chhattisgarh, Madhya Pradesh, Rajasthan and Telangana and for the purpose of contesting the elections in the said States, the candidates of the petitioner party required the Election Symbol. According to the petitioner, said application was duly acknowledged by respondent no. 1, however, no action till date has been initiated.
Justice Rajesh Sekhri observed that the short grievance projected by the petitioner is that notification with respect to Assembly Elections, 2023 in the aforesaid four States came to be notified vide notification dated 11.10.2023 and it intends to participate in the said Assembly Elections as its candidates have already been identified and notified for various constituencies. It is contended that in order to nominate a candidate to contest under the name of a Political party, Form B is to be issued by a Political Party, for approving the candidature of a candidate to contest the election on party ticket for a particular Constituency. According to the petitioner, despite having complied with all the requisite formalities as laid down under the Act and regularly filing its ITR, respondent no. 1 has not taken any call with respect to change of its name as well as allotment of common symbol and a case for interim indulgence is made out.
Justice Rajesh Sekhri issued notice to the respodents and Amit Sharma, Advocate vice Mr. Aseem Sawhney, Advocate waives notice on behalf of respondent no. 1. He seeks and is granted four week s' time to file response. Notice shall go to rest of the respondents, returnable within four weeks. Requisite steps for service be taken within one week.
Court further directed respodents to accept the nomination paper and Form B of the petitioner party in the name of "Ekam Sanatan Bharat Dal". They are also directed to allot common symbol enabling petitioner party to contest the forthcoming Elections of Legislative Assemblies of four states.JNF