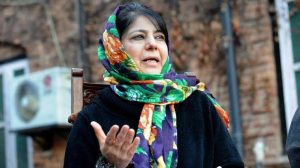 Jammu: The BJP is "delaying" the panchayat and local bodies polls in Jammu and Kashmir as it has "sensed defeat", PDP chief Mehbooba Mufti said on Wednesday, and charged that the ruling party at the Centre might end the election system in the entire country if it comes back to power.
"The BJP has realised that they will be wiped out in Jammu and the parties and system which they tried to put up in Kashmir are not working as people are not ready to accept them, so they are deferring the election," she told reporters here.
The former J-K chief minister said the BJP used to "indulge in a drama" and show to the entire world that they conducted the panchayat and local bodies elections in J-K.
"Now, I think they have stopped that pretence. On one hand, these people say in the Supreme Court that the situation has improved in J-K after abrogation of Article 370, and that the people are happy. But, on the other, the same government now says that the security (situation) is not right in J-K and the elections cannot be conducted," she said.
I think the real reason, Mehbooba said, is that all "experiments" by BJP in J-K, especially in the valley, have failed.
"They tried to create a new crop, a hybrid political system, it has failed. The people in Jammu have gone against them, they are out on roads, they have realised that the BJP has befooled them by provoking them against Kashmir, by making them suffer losses, by making people in J-K fight with each other, creating Hindu-Muslim divide," the PDP president said.
The former Jammu and Kashmir chief minister charged that the BJP does not accept the Constitution and wants to end the democratic system of the country, and they want to start it from J-K.