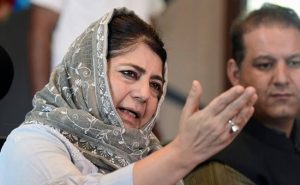 People's Democratic Party president Mehbooba Mufti on Tuesday demanded accountability on the share of Lithium reserves found in the Reasi district that are likely to be auctioned by the government in order to woo foreign investors.
In a post on twitter, Mehbooba Mufti said that after water and mineral resources, these Lithium reserves will be exploited and gifted to BJP's crony capitalists.
She said that they must seek accountability on the share Jammu and Kashmir will receive.
"After taking over J&Ks water resources & minerals, GOI has set its eyes on Jammu's lithium reserves. While the electricity generated by the state is supplied to others( even for free), we ourselves suffer in darkness. Now these lithium reserves will be exploited & gifted to BJPs crony capitalists. We must seek accountability on the share J&K will receive," she said.