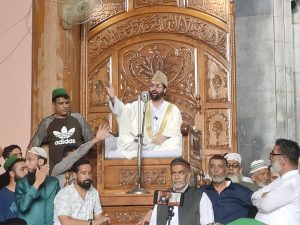 After 4 Years Mirwaiz Umar Leads Friday Congregation At Jamia Masjid. At this time He broke into tears.
rinagar: Hurriyat Conference (M) chairman Mirwaiz Umar Farooq on Friday said that J&K might be a territorial issue for many, but it is a humanitarian issue and must be resolved through dialogue and that despite advocating for peace, it is unfortunate that he was branded as anti-national, anti-peace and separatist as well.
Delivering his first sermon after 4 being released from house detention after 4 years, Mirwaiz said that four years of his house detention were the worst period of his life after his father's death.
"I was allowed to deliver sermon on the pulpit of Jamia Masjid after 212 consecutive Fridays. People are aware that after August, 04, 2019, I was kept under house detention and I was not being allowed to move out of my home, due to which I couldn't perform my duties as Mirwaiz" he said.
Mirwaiz said that after approaching the court, a few police officers visited him yesterday and informed that he is being released and can visit Jamia Masjid tomorrow to offer Friday prayers.
"I cannot utter my sentiments, but it is all because of the prayers of people that I am here again to deliver the sermon," he said, adding that it was quite difficult for him to stay away from the pulpit for four years.
He said that after August 5, 2019, people have faced difficult times as J&K's special identity was snatched and was bifurcated in two Union Territories.
"As a Mirwaiz, I have the responsibility to raise the voice for the people. Since Hurriyat Conference continued to raise the voice, but the media stopped using our statements. I want to tell my people that it is the time to be patient, to keep faith in the Almighty," he said.
He said that Hurriyat believes that J&K's one part is in India while the rest two are in Pakistan and China, and by merging them fully J&K will be complete, which it was on 14 August 1947. "Therefore, this issue needs to be resolved. J&K issue can be a territorial issue for many, but for the people of J&K it is a humanitarian issue," he said.
Reacting to the statement of Prime Minister Narendra Modi on the Ukraine issue, Mirwaiz said that he was right in saying that the present era is not of war. "We too have been advocating for the resolution of J&K issue through dialogue. Following the path of peace, we had to bear difficulties, but unfortunately, we were branded as separatists, anti-national and anti-peace. But we don't have any personal ambition, we only want peaceful resolution of J&K issue," he said.
"It is because of our peaceful mission that we continued to appeal for the return of Kashmiri migrants," he said.
He also demanded release of all political prisoners, journalists, lawyers, civil society members and the youth as well.
After delivering sermons, Mirwaiz appealed the gathering to leave from the Jamia Masjid peacefully.