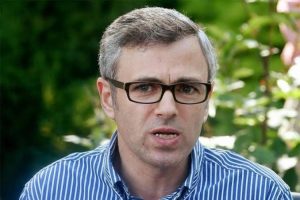 Jammu: As controversy has erupted on the 'Bharat-India' name, National Conference leader Omar Abdullah on Friday challenged the Centre to 'change' the Constitution first if they have 'guts'.
Talking to the reporters here, the NC leader said nobody will support the union government if it will change the Constitution to rename the country.
"Nobody can change it… It is not so easy to change the name of the country. To do this, you will have to change the Constitution of the country. If you have the guts, then do it, we will also see who supports you…," Omar Abdullah said.
Speculations have gained ground that the Centre might change the name of the country to Bharat from India after Rashtrapati Bhawan sent out invitations for a G20 dinner on September 9 on behalf of the 'President of Bharat'.
The opposition alleged that the government was resorting to "drama" just because they got together and called their bloc INDIA. BJP leaders have strongly supported the move by the government.
National Conference (NC) patriarch Farooq Abdullah also commented on the same on Friday and said, "Read the Constitution first; it is mentioned there that Bharat and India are one. You (media) create controversy."