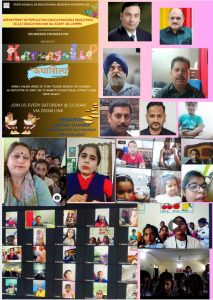 Jammu: 03.06.2023: Weekly Online Series of Story Telling sessions for young children "KATHASHILP" which is an initiative of SCERT J&K Divisional Office Jammu and organised by Department of Population Education, Girls Education ECCE and Education for All in collaboration with EDUWEAVE Foundation, to promote Foundational literacy under NIPUN Bharat once again enthralled and enchanted it's young audience and participants today on 3rd of June 2023
Launched in October 2021, for the young children ,today's Session of Kathashilp was dedicated and conducted under G20 Janbhagidari for FLN on the directions of Director SCERT J&K, Prof. (Dr. Parikshat Singh Manhas) who believed that Kathashilp would definitely achieve its objective to develop children's foundational literacy skills and create their interest in reading and writing.
Today's storytelling session was inaugurated by Sh N.P Singh, Head, Population Education, Girls Education, ECCE & Education for All Wing, who emphasized upon the significance of Story Telling – a useful teaching strategy for developing students' literacy and reading comprehension at the foundational stage. .
In today's session, more than 150 students from across Jammu Division participated apart from teachers and mentors. Children studying in early grades, from both public and private schools, very enthusiastically narrated and read out interesting stories in one hour long Story Telling Session.
Conducted under the overall Supervision of JD SCERT Jammu Sh H.R.PAKHROO, today's session was co-ordinated by Mr Deepak Sharma, Sr. Academic Officer (Co-ordinator Kathashilp/NIPUN Bharat – Janbhagidari JK), moderated by Ms. Pallavi Joshi and technically coordinated by Akash Khajuria & Yugal Kishore. These story telling sessions are being organised on every Saturday by SCERT J&K Divisional Office Jammu to continue with its journey to strive hard in its endeavor to achieve the goals of NIPUN Bharat.