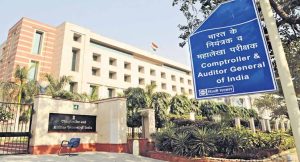 Jammu: The Comptroller and Auditor General of India (CAG) report has pointed out that the Home Department paid one month's additional salary to 483 Police personnel who were not deployed for Municipal and Panchayat election duties.
In its report, which was tabled in the Parliament recently, the CAG has pointed out that the irregularity by the department resulted in the inadmissible payment of Rs 1.58 crore to the police personnel.
The CAG in its latest report has stated that the General Administration Department J&K in December 2018 accorded sanction for payment of one-month additional salary to the employees who were deployed for conduct of Municipal or Panchayat elections in 2018.
The CAG has pointed out that after doing the audit scrutiny of records of six Drawing and Disbursing Officers (DDOs) of Home department s from December 2020 to June 2021, it was revealed that one-month additional salary was irregularly paid to 483 police personnel who were not deployed for election duties held in 2018.
"These police personnel were providing security to Very Important Persons (VIPs) and other protected persons in and outside their respective districts during the months when the elections were held," the CAG has observed.
The CAG has further pointed out that the accounts officers in the offices of Senior Superintendent of Police (SSP), Jammu and Rajouri, SSP Doda and Commandant IR-2nd Battalion, Rajouri accepted the audit contention and admitted that the payment was made inadvertently and informed that the recovery would be initiated against these employees.
As per the Audit findings, the accounts officer in the office of SSP Reasi has reported that the recovery was started from the salary of May 2021 in respect of these employees. The CAG has stated that after the matter was referred to the Government in January 2022, the financial advisor of the J&K Home Department informed that out of Rs 1.58 crore, recovery of Rs 1.10 crore was made by the department from the salary of these employees.
The department has further reported that more than 75 per cent of recovery was by SSP Jammu, SSP Doda and SSP Rajouri.