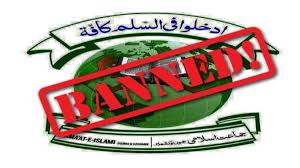 The immovable property of the banned Jamaat Islami located in Shopian district of South Kashmir, worth Rs 2.60 crore, has been sealed. The state administration has taken this action as part of the exercise to destroy the terrorist and separatist ecosystem. State investigation agency SIA has identified about 188 assets of Jamaat Islami in different parts of the state.
Whether it is a mere coincidence or something else, the first Jalsa of Jamaat Islami in Jammu and Kashmir took place in 1942 in Badami Bagh, Shopian. This conference was organized by Saad-ud-din Tarabali and Ghulam Ahmad Ahrar. After this conference, the first All India Conference of Jamaat Islami was held in Pathankot, Punjab in 1945. After India became independent, the Jammu and Kashmir unit of Jamaat Islami had distanced itself from Jamaat Islami Hind.
Jamaate Islami Jammu and Kashmir is considered to be a major sponsoring organization of terrorism and separatism. Most of the cadre of terrorist organizations operating in Jammu and Kashmir are believed to be directly or indirectly linked with Jamaat Islam. Kashmir's largest terrorist organization Hizbul Mujahideen was also called the military side of Jamaate Islami. The 95th percentile cadre of Hizb also belongs to Jamaat Islami. The leaders of most of the separatist organizations have also been associated with the Jamaat. Jamaat Islami was banned in February 2019.
The officials concerned said that the SIA has unearthed various immovable properties of Jamaat Islami in the entire state. These include shops, houses, school premises, gardens, etc. The SIA has recommended sealing them so that they cannot be used for any anti-national activities. District Magistrate Shopian has issued an order to seal nine immovable properties of Jamaate Islami in the district. No unwanted elements will be allowed to enter or use the sealed properties. The value of the sealed properties is estimated at Rs 25803333.