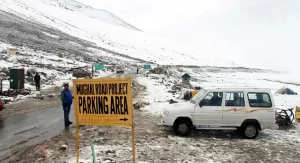 Snowfall is reported in the higher reaches of Jammu and Kashmir and rain in the plains. The high altitude areas of Sonmarg, Gurez, Dras, Kargil have received fresh snowfall. The Meteorological Center Srinagar has predicted rain and snowfall in parts of Jammu and Kashmir on November 9 and 10. At the same time, Wednesday morning in Jammu started with clouds. After this, the drizzle of rain in the afternoon increased the feeling of cold.
On the other hand, the Mughal road connecting Poonch and Rajori districts of Jammu division with Shopian in south Kashmir has once again been closed due to snowfall. On Tuesday evening, on the fourth day, this route was opened for light motor vehicles for some time, but today the Mughal road has been closed again as a precautionary measure due to inclement weather.
The Srinagar-Sonmarg-Gumri (SSG) road has been closed following snowfall in the higher reaches of Sonmarg. The Srinagar-Leh highway is also stalled. Meanwhile, traffic officials said the Jammu-Srinagar highway was restored to traffic. The administration has advised people to travel only after taking updates of the roads. Along with this, it is advised to keep all the necessary things like food items, sufficient warm clothes etc. with you.