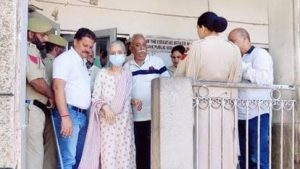 After the defeat in the Kathua Municipal Council, the BJP is in the fray with full force in Udhampur. The floor test for the President of Udhampur Municipal Council was held today, but before the result came, Advocate Dinkar Gupta along with his colleagues arrived with a stay order. He handed over the copy of the order to the CEO. As such, the matter has now gone under the court.
Sources say that in the floor test for the President of the Municipal Council in Udhampur, 11 people have voted in support of the no-confidence motion, while eight people have voted in support of Dr. Jogeshwar Gupta. Due to this, an atmosphere of happiness was seen for some time in the opposing side, which turned into sorrow in an instant. With the arrival of the stay order, the situation changed. During this, there was also a tussle and high voltage drama at there.
It is worth noting here that in the no-confidence motion presented by 11 councilors in the city council, four councilors were from the BJP. Senior BJP leaders have tried hard to persuade them. A whip was also issued for this. On Wednesday, BJP state president Ravindra Raina had called the BJP councilors involved in the no-confidence motion against the Udhampur NP president to the party office, Jammu.
If sources are to be believed, four councilors have supported the no-confidence motion even today. In such a situation, the sword of action against the rebel councilors hangs.