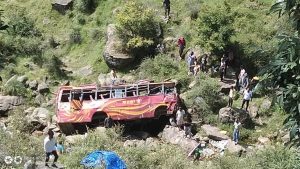 The second major road accident has occurred in Jammu division within the last twenty four hours. So far 5 people, including the bus driver, conductor, have been confirmed dead in this road accident that occurred in district Rajouri. The death toll may increase.
According to the information received from the police, this road accident has come to the fore in Manjakot area of ​​district Rajouri. When a bus full of passengers rolled into a ditch here, about 5 people sitting in it died on the spot while many people were injured. Army, police and local people are continuing the rescue work. The injured are being taken to the nearest hospital. So far 17 people have lost their lives in these two road accidents that took place in two days. The injured have been admitted to Manjakot Hospital. Those who had suffered serious injuries have been shifted to Rajouri District Hospital after being provided first aid at Manjakot Hospital.
Jammu and Kashmir Lieutenant Governor Manoj Sinha expressed deep grief over the Rajouri road accident. He wrote on his official Twitter handle that I am saddened by the death of people in the painful road accident in Rajouri. My thoughts are with the bereaved families in this hour of grief. It is my wish that the injured get well soon. He said that the district administration is providing all possible help.
On yesterday, 12 people were killed and 27 others were injured in a road accident in Sabjiyan, the border area of ​​Poonch. So far 17 people have lost their lives while 52 people have been injured in this major road accident that took place within the last twenty four hours.
Sources said that as soon as the information about the accident was received, the army, police and local people reached the spot. Rescue operation is underway. Eight bodies have been recovered from the spot so far. Efforts are on to take the injured to the hospital. Police said that this bus coming from Jammu was going towards Poonch. When the bus was passing through Derry Raliot, a hilly area in Manjakot area of ​​district Rajouri, the driver lost control of the vehicle and the bus fell straight into the gorge.