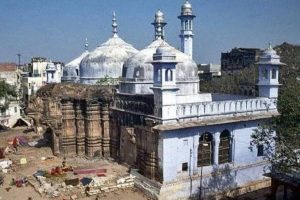 The Varanasi Districts and Sessions court on Monday upheld the maintainability of the Hindu side's petition in the Gyanvapi mosque complex case.
Five women had filed a petition seeking permission for daily worship of Hindu deities whose idols are claimed to be located on an outer wall of the Gyanvapi mosque. The Anjuman Intezamia Masjid Committee has said the Gyanvapi mosque is a Waqf property and had questioned the maintainability of the plea.
The Varanasi District Court on Monday rejected the petition of the Muslim side. The court said that the suit by Hindu parties is maintainable in the court. The court has posted the matter for hearing on September 22 and it will now hear the arguments based on merits.
A single bench of district Judge AK Vishvesh delivered the verdict in the Gyanvapi Shrinagar Gauri dispute case today.
"The court rejected the Muslim side's petition and said the suit is maintainable. The next hearing of the case is on Sep 22," advocate Vishnu Shankar Jain, representing the Hindu side, said.
"Muslim petitioners are likely to approach Allahabad High Court in appeal," petitioner Sohan Lal Arya told India Today.