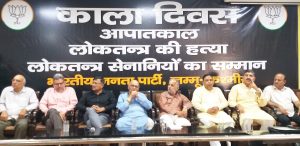 Bharatiya Janata Party (BJP), Jammu & Kashmir observed "Black Day" on the day of imposition of Emergency by the then PM Indira Gandhi and felicitated the "Loktantra Senani" who suffered badly at the behest of then government at party headquarter, Trikuta Nagar, Jammu.
Black days of Emergency were remembered by all those, who were arrested under MISA (Maintenance of Internal Security Act) at BJP head office to denounce the Emergency imposed by Congress in 1975.
Satish Sharma, All India General Secretary Loktantra Senani Sangh from Delhi was Chief Guest and Ramesh Arora former MLC was main speaker. Many other sufferers shared their experience of those days.
Sat Paul Gupta RSS, former Dy. CM Kavinder Gupta, former MLC Ashok Khajuria, former MLC Ramesh Arora, Suresh Sharma (RSS), Vipan Kumar, Chander Mohan Sharma, Shaminder Sharma, Surinder Manhas, Surinder Gupta, Romesh Gupta, Sudharshan Gupta, Ram Mohan, Sat Paul Singh, Salish Sethi, Anand, Ashok Gupta and many others were felicitated on the occasion.
All person i.e. Loktantra Senani were honoured by MP (Lok Sabha) Jugal Kishore Sharma, Mayor JMC Chander Mohan Gupta, former Minister Sat Sharma, BJP General Secretaries Adv. Vibodh Gupta & Dr. Devinder Kumar Manyal and other dignitaries.