Er. Gurmeet Singh, Managing Director JPDCL accompanied by Chief Engineer, Distribution Ashwini Sachdeva and other senior officers visited Electric Central Workshop Division for accessing the on-spot buffer stock position of the fresh and repaired Distribution Transformers of various capacities. The Senior functionaries also reviewed the progress of repair of transformers taken up by the technical staff of Electric Central Workshop Division. MD JPDCL Er. Gurmeet Singh said that the transformer buffer stock is a very important step for implementation of "Summer Preparedness Plan" being implemented by JPDCL for providing 24×7 quality power across Jammu Province in the summer season.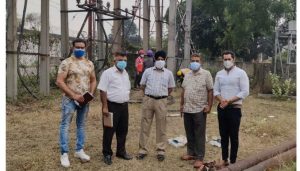 Managing Director passed explicit instructions to the Executive Engineer ECWD Jammu to scale up the pace of ongoing DT repair works and implement correct management techniques for improving the overall quality and output efficiency of the workshop. It was impressed during the visit that adherence to prevailing covid related SOPs issued by the Government should be complied with while carrying out the works. The Executive Engineer ECWD Jammu along with his concerned staff reassured that they shall continue to work dedicatedly to create enough Buffer Stock to ensure availability of transformers for the general public.
The MD along with Chief Engineer then visited the Gas Plants at Bari Brahaman and expressed satisfaction that dedicated 11 KV feeder lines have been constructed for two Gas plants in the shortest span of time from newly constructed R/Stn 2×10 MVa R/stn at Birpur. He inspected the works of third dedicated feeder for RSS Gas plant and other allied works which included charging of new 10 MVA transformer at BB-II R/stn. The Managing Director said that the new 10 MVA transformer shall ensure additional power for other units at Bari -Brahmana which shall be a very welcome step.