The Bombay high court on Monday temporarily restrained the police from issuing fresh summons to actor Kangana Ranaut and her sister Rangoli Chandel in connection with the case registered at Bandra police station booking them for sedition and attempting to create communal divide.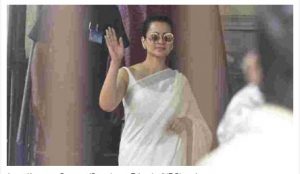 "Is this the only case… There are many other cases for you to investigate… Utilise this time for investigating those cases," said the division bench of justices SS Shinde and Manish Pitale.
The comments came after public prosecutor Dipak Thakare sought a direction to the actor and her sister to appear before the investigating officer (IO) again for further investigation of the case.
Thakare pointed out the sisters appeared before the IO on January 8, 2021, as ordered by the court earlier, but the actor's interrogation was not complete yet. He said more than 100 tweets are required to be investigated, and it could be completed if Ranaut and Rangel appear before the IO for three consecutive days.
The bench refused to consider the request, reiterating that it had serious doubt about the applicability of Section124-A of the Indian Penal Code (sedition) against the actor and her sister. The bench then placed the petition jointly filed by Ranaut and Chandel for further hearing on January 25, clarifying that it will consider the request on that day.
The actor and her sister have moved the high court challenging the October 16, 2020 order of a magistrate court at Bandra on the basis of which an FIR has been registered against them at the Bandra police station for allegedly "creating hatred between Hindus and Muslims, especially those engaged in Bollywood."
The Bandra Police on October 17, 2020, booked the sisters under sections 124(A) (sedition – to bring or attempt to bring into hatred or contempt, or excite or attempt to excite disaffection towards the Government established by law in India, by words, either spoken or written, or by signs, or by visible representation, or otherwise), 153(A) (promoting enmity between different groups on the ground of religion, race, place of birth, language etc. and doing acts prejudicial to maintenance of harmony) and 295(A) (deliberate and malicious acts, intended to outrage religious feelings of any class, by insulting it's religion or religious beliefs) along with section 34 (common intention) of the Indian Penal Code.